Imagine Bitterne Park is a community led project that aims to capture the combined wisdom and imagination of all corners of the Bitterne Park community to build a positive shared vision of the community's future. The project consists of three simple steps:
Ask the Bitterne Park community a simple question: What do you see when you imagine a better Bitterne Park?
Provide various spaces for the community to respond
Playback the community's response and see what seeds of imagination take root
If you want to stay up-to-date, please join our mailing list, social groups, or follow us
We are currently looking for volunteers to join us
If you're interested in getting involved with some of the project, please get in touch. We need a mix of people from across the community from idea creators, thinkers, writers, organisers, facilitators, project managers, networkers, story tellers, artists, musicians, and social media whizzes. There's no expectation in terms of time commitment, just give what you can, it's amazing the impact an hour here and there can have.
We want to create Imagination Spaces where our community's imagination can thrive
We would like to provide a variety of spaces where the community can reflect and express their ideas. Some of the initial ideas are below but these are by no means set in stone if other ideas come forward (get in touch if you have an idea or if any of the ideas below inspire!):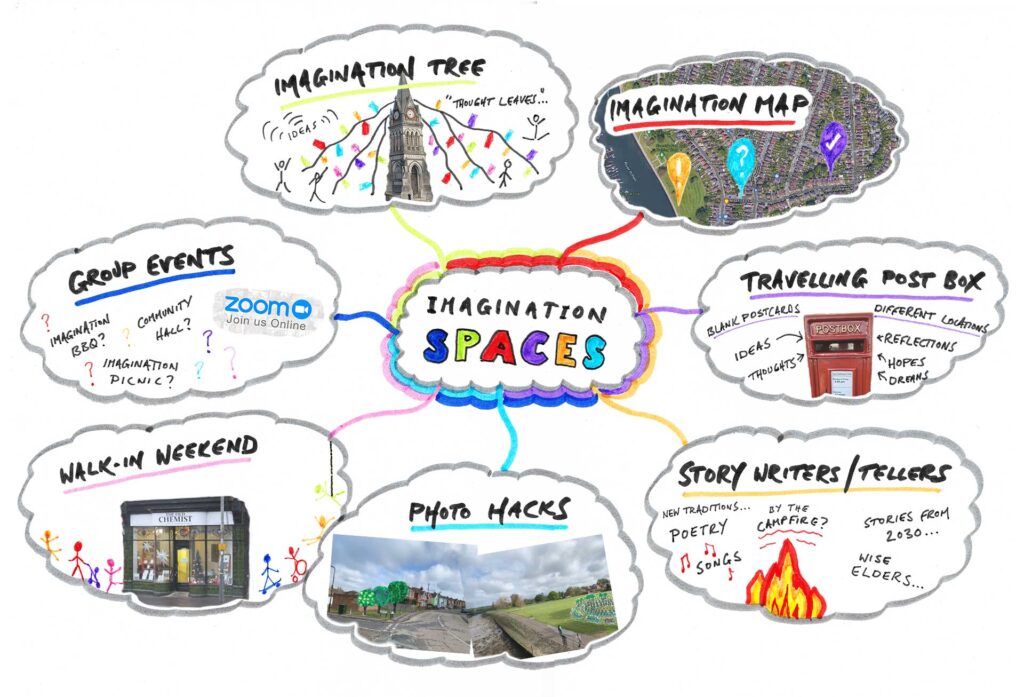 Inspired by Rob Hopkins and Transition Bounce Forward
Imagine Bitterne Park is inspired by the imaginative and inspirational book by Rob Hopkins, From What Is to What If (copies available from October Books) and The Transition Bounce Forward project provided further impetus (not to mention some funding!).
Thank you to our supporters
The majority of funding for this project comes from The National Lottery Community Fund and is distributed by the Transition Network via their Transition: Bounce Forward initiative. There are 112 other projects around the country that have also been awarded funding.